Details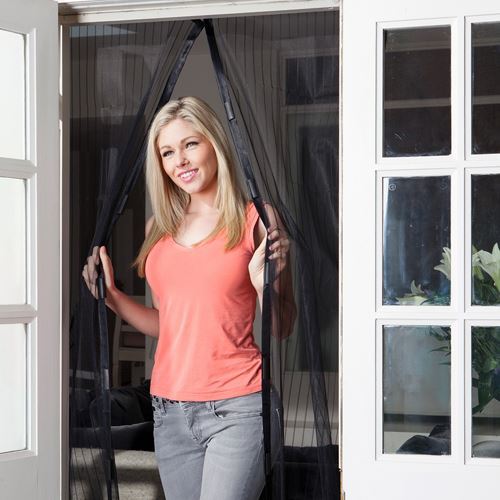 100% BRAND NEW AS seen on TV EXCELLENT QUALITY
Hands-free screen door Magic Mesh Hands-Free Screen Door opens easily then closes itself behind you using 18 powerful magnets. So, if your hands are full or you have a forgetful family member, you can still let fresh air in and keep annoying bugs out! It goes up in seconds with no tools required and stays up all season long. Plus, it folds up for easy storage.
Magnetic Curtain Door Mesh Magnetic Fastening- black

The magic door mesh neatly solves the problem of allowing fresh air to circulate through open doors without allowing irritating insects entry. Just a gentle push on the screen and it opens to allow entry/exit then securely closes with the magnetic fasteners incorporated into the opening Mesh Size: 82.5" High x 39" Wide (2x19.5") Includes : 20 Wood Tacks 12 Hook and loop Strips ---- Fits Single Doors, Sliding Doors , RVs and More ! Instantly Opens Magically Closes Great for pets too ! Easily walk through Installs in Seconds , no tools required !
Great Value Buy with Confidence Real value of your money This listing is for 1 Pack / Box